FREE SHIPPING
$
$2,399
USD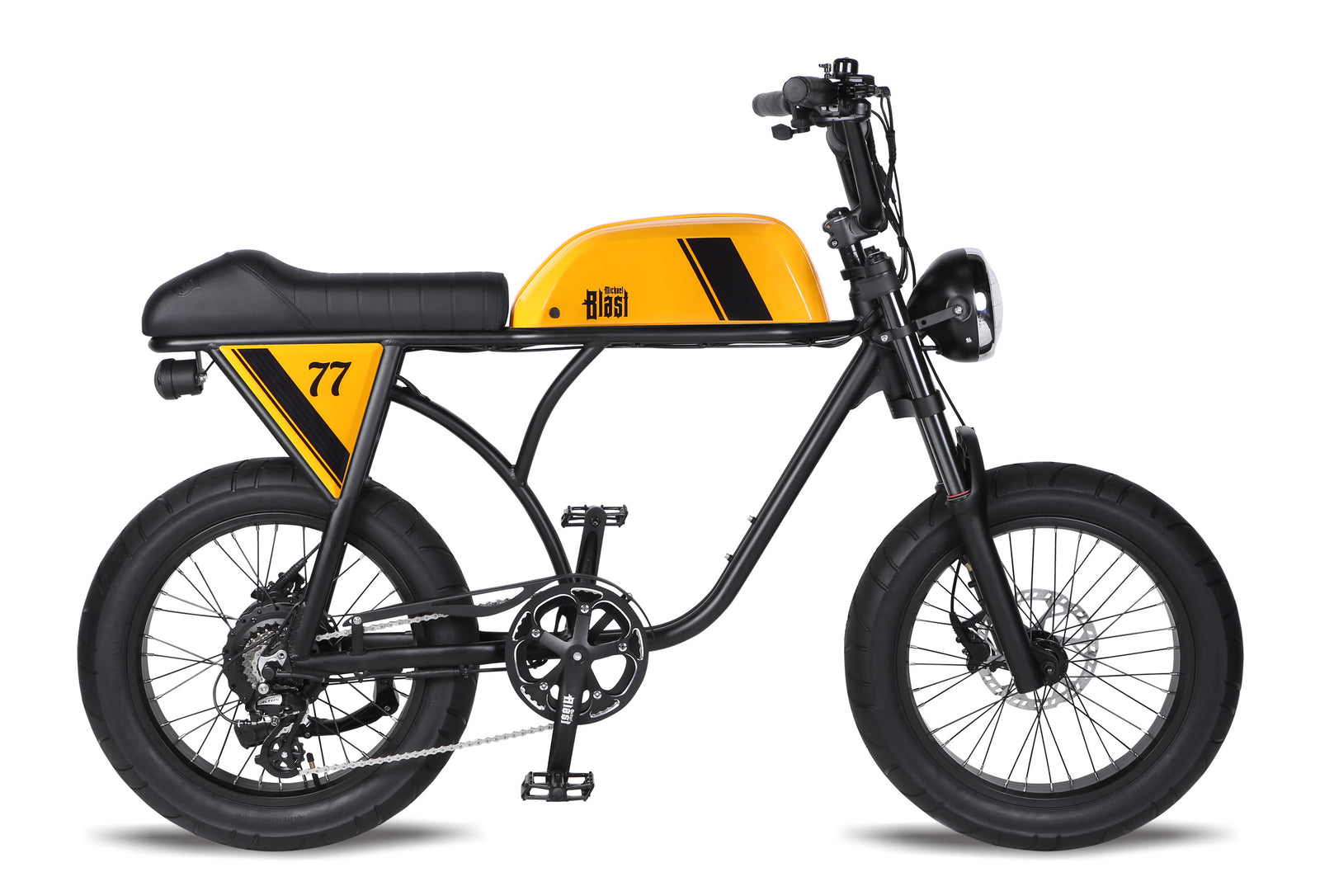 Out of Stock. Not available right now.
Reviews
Customer Reviews
07/24/2023
Sheldon

Canada
This Outsider rocks!!!!!
Just picked up my Outsider today. After much research and went down to my local e-bike dealer. Almost bought another brand. ...Hold-up! Then I saw the Outsider. Love at first sight. Man is this sweet. I grew up in the 80's and it reminds me of my Red Motocross / pedal bike with shocks. My dealer let me ride a few different e-bikes back to back. Glad I did. I love the Outsider. Handles great. Very fast. Build quality is top notch. I have found very very few minor flaws. It pretty easy on other brands to spot. Did I mention this thing hauls!! This is my new favourite ride to rip around on. Sorry KTM Duke 690, you will have to wait. I can't say enough how impressed I am with this bike. So fun to tear around on tonight. Thanks for the great build.
TOP SPEED 35KMH (22 MPH)
RANGE 37-50MILE (60-80KM)*
WEIGHT CAPACITY 260 LBS (118KG)
CLASS 2 E-BIKE
KEY TECH SPECS
BAFANG 750W GEARED BRUSHLESS REAR HUB ELECTRIC MOTOR
SAMSUNG LITHIUM ION BATTERY 48V 20AH
DUAL BATTERY OPTIONAL (20AH+14AH/20AH+20AH)
CADENCE SENSOR SYSTEM
TAIWAN STAR UNION HYDRAULIC DISC BRAKES WITH 180MM ROTORS
SHIMANO ALTUS X7-SPEED AND 5-SPEED MOTOR ASSIST DRIVETRAIN
PADDED EXTRA LARGE SADDLE
5-SPEED BACKLIT LED DISPLAY
20" X 5" FAT TIRE SPOKED WHEELS - 750W
POWERFUL LARGE RETRO LED HEADLIGHT
A6061 ALUMINUM TIG WELDED FRAME
DOUBLE DOWN CHROMOLLY / CNC ALU MADE CROWN SET FORK
VIEW EXTENDED TECH SPECS
MOTOR
BAFANG 750Watts (500W) Geared Brushless Rear Hub
BATTERY
Samsung Lithium Ion 48V 14.5Ah (36V 13Ah)
SPEED
32 km/h (20 Mph) AND 25 km/h (16 Mph) UNLIMITED
CONTROLLER
Control Freak 18Ah
TRIP COMPUTER
LCD 5 Speed Display
RANGE
Approx. 50 Kms (32 Milles)
CHARGING TIME
4 to 5 hours
CERTFICATION
EN15194
WARRANTY
5 years on the frame + 1 year on electric system
FRAME
A6061 Aluminum Tig Welded
FORK
Double Down Chromolly/CNC Alu Made Crown Set
GEARS
5 Speed motor assist with 7 speed Shimano Acera
BRAKES
Taiwan Star Union Hydraulic (180 mm Front/160 mm Rear)
now with motor cut off function (on all the bikes)
DERAILLEUR
Rear Derailleur (Shimano Altus) 7 speed
SHIFTER
Shimano
WHEEL HUB
Aluminum
STEM/BAR
Promax Aluminum
TIRES
750W - Spoked Wheels - 20' X 4'
Knobbly tire (BEIGE)
500W - Innova Mag Wheels - 20' X 4'
Innova Motard style tire (BLACK)
PAS
Pedal Assist System allows for a more intuitive riding experience
DIMENSIONS
L76xW26xH40-inch (163x66x102 cm)
WEIGHT CAPACITY
260 lbs (118 kg)
PRODUCT WEIGHT
50 lbs (22.7 kg)
KEY
TECH SPECS
BAFANG 750W GEARED BRUSHLESS REAR HUB ELECTRIC MOTOR
SAMSUNG LITHIUM ION BATTERY 48V 20AH
DUAL BATTERY OPTIONAL (20AH+14AH/20AH+20AH)
CADENCE SENSOR SYSTEM
TAIWAN STAR UNION HYDRAULIC DISC BRAKES WITH 180MM ROTORS
SHIMANO ALTUS X7-SPEED AND 5-SPEED MOTOR ASSIST DRIVETRAIN
PADDED EXTRA LARGE SADDLE
5-SPEED BACKLIT LED DISPLAY
20" X 5" FAT TIRE SPOKED WHEELS - 750W
POWERFUL LARGE RETRO LED HEADLIGHT
A6061 ALUMINUM TIG WELDED FRAME
DOUBLE DOWN CHROMOLLY / CNC ALU MADE CROWN SET FORK
VIEW EXTENDED TECH SPECS
MOTOR
BAFANG 750Watts (500W) Geared Brushless Rear Hub
BATTERY
Samsung Lithium Ion 48V 14.5Ah (36V 13Ah)
SPEED
32 km/h (20 Mph) AND 25 km/h (16 Mph) UNLIMITED
CONTROLLER
Control Freak 18Ah
TRIP COMPUTER
LCD 5 Speed Display
RANGE
Approx. 50 Kms (32 Milles)
CHARGING TIME
4 to 5 hours
CERTFICATION
EN15194
WARRANTY
5 years on the frame + 1 year on electric system
FRAME
A6061 Aluminum Tig Welded
FORK
Double Down Chromolly/CNC Alu Made Crown Set
GEARS
5 Speed motor assist with 7 speed Shimano Acera
BRAKES
Taiwan Star Union Hydraulic (180 mm Front/160 mm Rear)
now with motor cut off function (on all the bikes)
DERAILLEUR
Rear Derailleur (Shimano Altus) 7 speed
SHIFTER
Shimano
WHEEL HUB
Aluminum
STEM/BAR
Promax Aluminum
TIRES
750W - Spoked Wheels - 20' X 4'
Knobbly tire (BEIGE)
500W - Innova Mag Wheels - 20' X 4'
Innova Motard style tire (BLACK)
PAS
Pedal Assist System allows for a more intuitive riding experience
DIMENSIONS
L76xW26xH40-inch (163x66x102 cm)
WEIGHT CAPACITY
260 lbs (118 kg)
PRODUCT WEIGHT
50 lbs (22.7 kg)
WATCH WHY ELECTRIFIED LOVES THE OUTSIDER
INSTAGRAM
@MICHAELBLASTFACTORY