FREE SHIPPING
$
$2,699
USD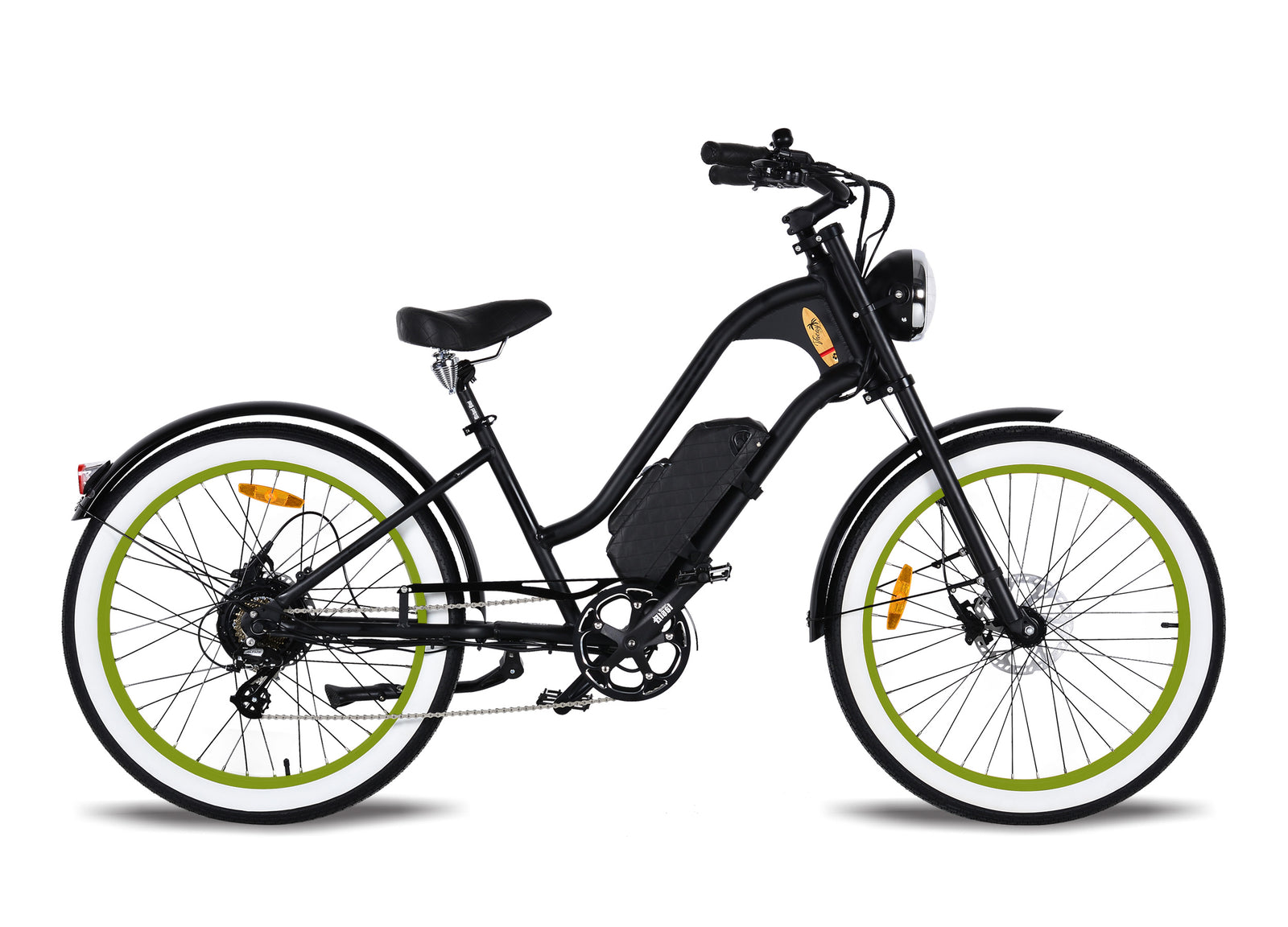 BLACK
GREEN
SAND
WARRANTY POLICY:
All of our e-bike models come with a three-year frame warranty plus a one-year or 800km (whichever comes first) replacement warranty on major parts. If a part is defective in manufacturing process we will replace it free of charge. All parts can be easily ordered on our website.
RETURN POLICY:
We are so confident in the quality of our e-bikes and know that you will love them. As such, we are proud to offer a 7-day no questions asked money back guarantee on all of our models.
* Only applies to customers who buy their bike directly from the Michael Blast website
In Stock. Ships in 2-3 business days.
KEY TECH SPECS
BAFANG 500W GEARED BRUSHLESS HUB ELECTRIC MOTOR
SAMSUNG LITHIUM ION BATTERY 48VOLT 14.5AH (36V13AH)
CADENCE SENSOR SYSTEM
TAIWAN STAR UNION HYDRAULIC DISC BRAKES WITH 180MM ROTORS
SHIMANO ALTUS X7-SPEED AND 5-SPEED MOTOR ASSIST DRIVETRAIN
VELO EXTRA WIDE SADDLE
5-SPEED BACKLIT LED DISPLAY
26" X 3.00" INNOVA TIRES
POWERFUL LARGE RETRO LED HEADLIGHT
A6061 ALUMINUM TIG WELDED FRAME
DOUBLE DOWN CHROMOLLY / CNC ALU MADE CROWN SET FORK
VIEW EXTENDED TECH SPECS
MOTOR
BAFANG 500 Watts Geared Brushless Rear Hub
BATTERY
Samsung Lithium Ion 48V 14.5Ah
SPEED
32 km/h (20 Mph) UNLIMITED
CONTROLLER
Control Freak 18Ah
TRIP COMPUTER
LCD 5 Speed Display
RANGE
Approx. 50 Kms (32 Milles)
CHARGING TIME
4 to 5 hours
CERTFICATION
EN15194
WARRANTY
5 years on the frame + 1 year on electric system
FRAME
A6061 Aluminum Tig Welded
FORK
Double Down Chromolly/CNC Alu Made Crown Set
GEARS
5 Speed motor assist with 7 speed Shimano Acera
BRAKES
Taiwan Star Union Hydraulic (180 mm Front/160 mm Rear)
now with motor cut off function (on all the bikes)
DERAILLEUR
Rear Derailleur (Shimano Altus) 7 speed
SHIFTER
Shimano
WHEEL HUB
Aluminum
STEM/BAR
Promax Aluminum
TIRES
Innova 26' X 3.00, 15-36PSI
PAS
Pedal Assist System allows for a more intuitive riding experience
DIMENSIONS
L80xW27.5xH44-inch (203x70x112 cm)
WEIGHT CAPACITY
260 lbs (118 kg)
PRODUCT WEIGHT
62 lbs (28 kg)
KEY
TECH SPECS
BAFANG 500W GEARED BRUSHLESS HUB ELECTRIC MOTOR
SAMSUNG LITHIUM ION BATTERY 48VOLT 14.5AH (36V13AH)
CADENCE SENSOR SYSTEM
TAIWAN STAR UNION HYDRAULIC DISC BRAKES WITH 180MM ROTORS
SHIMANO ALTUS X7-SPEED AND 5-SPEED MOTOR ASSIST DRIVETRAIN
VELO EXTRA WIDE SADDLE
5-SPEED BACKLIT LED DISPLAY
26" X 3.00" INNOVA TIRES
POWERFUL LARGE RETRO LED HEADLIGHT
A6061 ALUMINUM TIG WELDED FRAME
DOUBLE DOWN CHROMOLLY / CNC ALU MADE CROWN SET FORK
VIEW EXTENDED TECH SPECS
MOTOR
BAFANG 500 Watts Geared Brushless Rear Hub
BATTERY
Samsung Lithium Ion 48V 14.5Ah
SPEED
32 km/h (20 Mph) UNLIMITED
CONTROLLER
Control Freak 18Ah
TRIP COMPUTER
LCD 5 Speed Display
RANGE
Approx. 50 Kms (32 Milles)
CHARGING TIME
4 to 5 hours
CERTFICATION
EN15194
WARRANTY
5 years on the frame + 1 year on electric system
FRAME
A6061 Aluminum Tig Welded
FORK
Double Down Chromolly/CNC Alu Made Crown Set
GEARS
5 Speed motor assist with 7 speed Shimano Acera
BRAKES
Taiwan Star Union Hydraulic (180 mm Front/160 mm Rear)
now with motor cut off function (on all the bikes)
DERAILLEUR
Rear Derailleur (Shimano Altus) 7 speed
SHIFTER
Shimano
WHEEL HUB
Aluminum
STEM/BAR
Promax Aluminum
TIRES
Innova 26' X 3.00, 15-36PSI
PAS
Pedal Assist System allows for a more intuitive riding experience
DIMENSIONS
L80xW27.5xH44-inch (203x70x112 cm)
WEIGHT CAPACITY
260 lbs (118 kg)
PRODUCT WEIGHT
62 lbs (28 kg)
INSTAGRAM
@MICHAELBLASTFACTORY