Read More
MICHAEL BLAST STORY
The Michael Blast brand evolved through a group of friends from distant parts of the globe, joining forces to create a truly unique and affordable range of vintage inspired electric bicycles.
Our #LifeStyle range has been heavily inspired by some of history's timeless masterpieces… the classic 1920s board tracker. ..the 1970s Yamaha Chappy, Café Racer… and countless more.
Our multicultural team stretches from our roots here in Australia through to France, USA, Canada and Hungary.
It's safe to say we had an absolute blast creating our new #LifeStyle range of electric bicycles. Together our aim was to use our cultural diversity to really bring out the best in our unique designs.
We wanted to push the boundaries and go beyond the stereotypical retro/vintage styles and really showcase a diverse range of high-quality products that looked funky and fresh but also channeled our riders cool free spirit.
All around the world we interpret retro, vintage, cool and hipster in so many different ways and as a team this knowledge really inspired us to not only envision our final products but really think about our customers and their unique individuality as they are riding.
To be different is a beautiful thing, and we are proud to embrace this throughout our entire Michael Blast range.
It doesn't matter whether you are chasing the waves on Australia's Sunny Coast, cruising the big city lights of Toronto, or exploring all that Italy has to offer, whatever your #Lifestyle, Michael Blast has got you covered.
MORE ON GREASER
Getting onto the Greaser is like stepping back into the 1920's, it's a complete throwback to the era of "Great Gatsby" when the Board Tracker Racer style motorcycles were most popular. The era of sequin, fringe and beaded trims, flapper style, skullcaps, pork-pie and fedora hats.
Greaser has been specifically designed to draw the eye to the beauty of the bike and away from the battery and controller, which are hidden away in the custom-designed, aerodynamic mid-section sleek case. 
This unique electric bike has that special look of a vintage, antique motorcycle meanwhile being incredibly modern and up to date. This bike will get you noticed and you'll be the envy of every cyclist in town.
Greaser drives you at speeds up to 35 km/h and gives you a worry-free range of travel of approximately 60 km per charge depending on conditions.
That is more than enough for a complete day of touring. Unlike other electric bikes, which can take up to half a day to charge, a quick 4 hours will give you all the battery power you need for a full charge.
When you buy one of our GREASER you know you have just spent your hard-earned money on an extremely well-made piece of machinery.
Do not be fooled by the cheaper e-bikes, you get what you pay for and it is excellent quality and a machine that will outlast all others. The e-bike itself is an incredible vehicle, durable and very well manufactured.
Hydraulic Tektro Auriga brakes provide plenty of stopping power for the rider and make sure that you can stop safely with up to 260 lbs (118 kg) load capacity.
The fat 26 x 3.00 DURO (Beach Bum) 15-36PSI Beach Bum Tires make you feel like you're floating on air.
The wide, over-sized seat gives you complete comfort with dual springs that help to make the ride soft and cushy, even on bumpy terrain.
Extra Large motorcycle LED lamp will not only light your way in the dark, but also set you apart from all other riders.
Light up the way in style - see better, further, ensure you are safely seen by other cyclists and cars.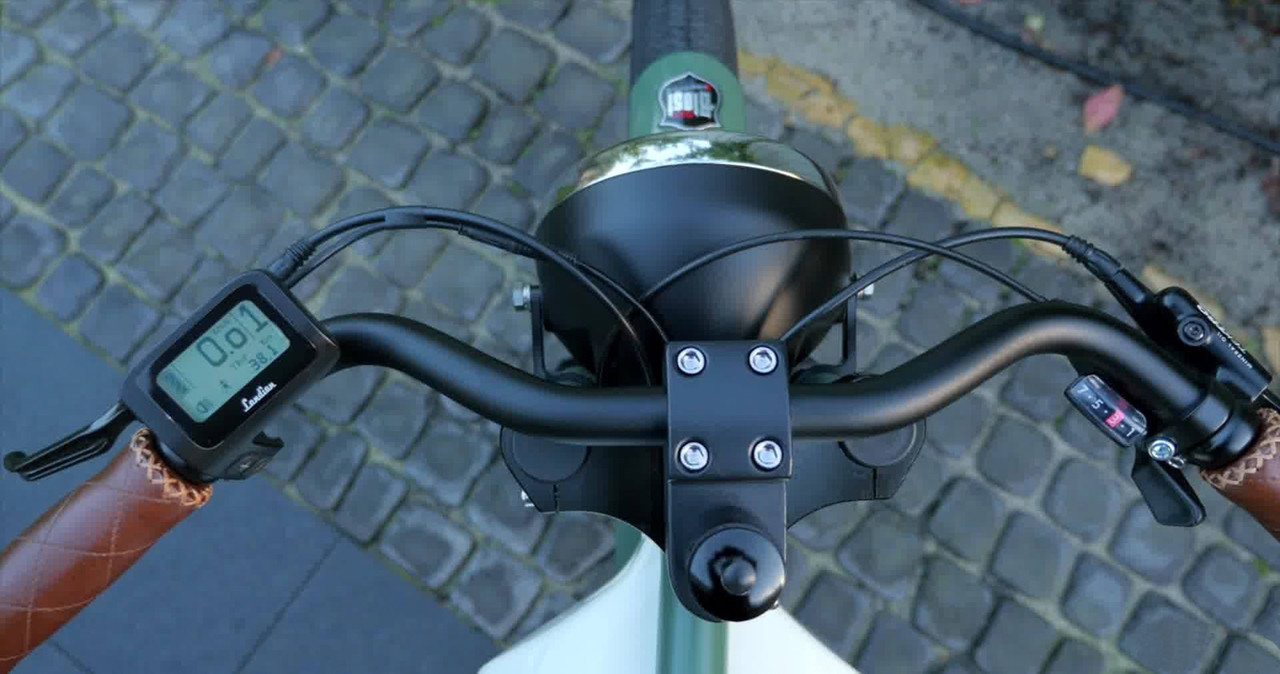 A large LCD 5 speed display with back-light shows you all the trip information you need including - assist mode, including current trip and total km traveled. Switch between kilometers and miles available.
Greaser is not only a stylish phat bike, but also a beast with Bafang 350W or 500W Geared Brushless Rear Hub Electric Motor, twist throttle. The major difference being that the 500W bike has better torque then the 350W, so it picks up speed faster.
Features easy to use twist throttle - with a simple twist of the right handle go further, faster - up hills without using the pedals.
PAS - Pedal Assist System allows for a more intuitive riding experience and if you want more exercise - turn it to zero assist level and pedal as on a regular bike.
The Electric Greaser bike provides the perfect alternative to transportation with environment friendly and zero emissions advanced Lithium Ion technology.
Hidden Battery & Controller - Looks great and cuts through the air with ease! A special mid-section case in the bike's frame combines both electric motor and its controller in one classy unit.
Equipped with Hydraulic Tektro Auriga 6-bolt 160mm front & 160mm rear Disk Brakes - featuring an open system design using non-corrosive and environment-friendly mineral oil.
Samsung Lithium Ion Battery 36V13Ah (350W) or 48V14.5Ah (500W). Quick charge of only 4 hours will have you riding in no time.