Streamlined, stripped-down, and absolutely stunning—the classic cafe racer style comes to the world of ebikes with these stylish electric steeds.
Gorgeous Vintage Vibes
Retro color schemes and frame geometry.
Ready for the Road
Keep your adventure going with pedal assist options and thumb throttles.
Powerful Bafang Motor
Grunt to match those good looks
Cafe Racer eBikes that Recall the Glory Days of Custom Motorcycles
In the 1960s and 70s, cafe racer motorcycles epitomized a unique and rebellious subculture that quickly spread from Europe across the globe. The scene was known for its spirited street races, often between popular cafes—hence the name "cafe racer". These unique ebikes bring the unique thrills and distinctive aesthetics of that era to the modern age of ebikes, resulting in an intoxicating blend of modern technology and old school charm.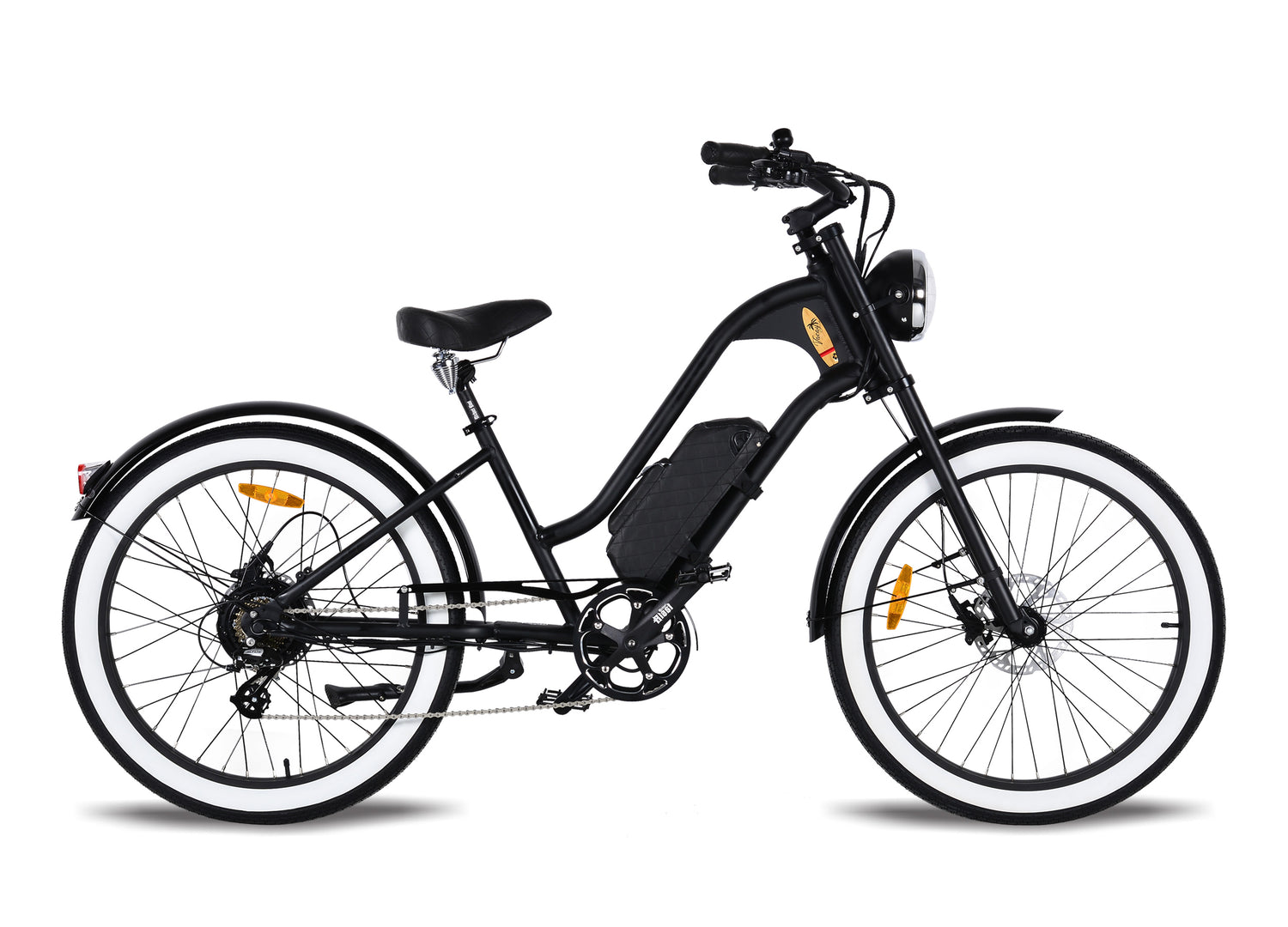 VACAY 500W 48V - LO-STEP
$2,799
A sleek, step-thru version of the Vacay that puts its powerful motor, comfortable saddle, and eye-catching tires in a perfect...
VIEW VACAY 500W 48V - LO-STEP
VACAY 500W 48V - HI-STEP
$2,799
A bobber-inspired frame with a big, bright headlight, extra wide saddle, and brilliant whitewall tires.
VIEW VACAY 500W 48V - HI-STEP
"Michael Blast Vacay"
"I love my bike. Rides like a dream and it is a gorgeous electric bike. The customer service is polite, knowledgeable, and answered all my questions 100%. They are really great."
Gorgeous Vintage Vibes
All the Charm of the Classic Cafe Racer Scene
With frame geometry intended to recall the original days of cafe motorcycle culture and retro color schemes inspired by the era, these ebikes evoke the spirit of that vintage Benelli or Ducati you always wanted.
Ready for the Road
Made for Your Urban Adventures
Real cafe racers are about more than just the way they look. With responsive pedal assistance and thumb throttles, you'll enjoy actual adrenaline while blasting between local landmarks.
Powerful Bafang Motor
Brawn to Match the Beauty
A Bafang 500W geared brushless hub electric motor gives you plenty of power when you need to put the "race" back in "cafe racer". Climb hills, maneuver through traffic, and bomb down the boulevard with ease. The Vacay Hi and Lo models are also both available with mid drive motors that offer natural power delivery based on your pedaling.
Can I Customize My Michael Blast Cafe Racer eBike?
We know that customization is an essential part of the cafe racer scene—and while we put a lot of work into giving our ebikes the best stock components possible, we fully support your drive to make your ride your own.
Find parts for your cafe racer ebike here, including racks, fenders, seats, and more. And feel free to send us your photos once you customize your cafe racer—we're always thrilled to see what our creative customers come up with!
Should I Buy a Mid or Hub Drive Cafe Racer eBike?
Mid and hub drive ebikes each have their advantages. Hub drive motors apply torque to the rear wheel, while mid drive motors apply it to the pedals.
If you're looking for an experience that more closely resembles that of an actual motorcycle, a hub drive motor might be your best bet. Hub drive ebikes also have fewer maintenance requirements and are more affordable.
If you want an ebike with pedal assist that feels more natural and intuitive, it's best to choose one with a mid drive motor. Mid drive motors use energy most efficiently when you're pedaling in the right gear, giving you a boost for hill climbs and providing a smooth, consistent experience.
Why Ride a Michael Blast eBike?
Our ebikes look and feel like nothing else on the market. We've worked tirelessly to engineer distinctive, eye-catching two-wheelers that honor classic motorcycle culture while offering a modern, eco-friendly riding experience.
When you're looking for an ebike that embodies the same free-spirited style associated with history's most iconic moto brands, Michael Blast has you covered.
Do Your Cafe Racer eBikes Come with a Warranty?
All of our ebikes come with a three-year frame warranty, plus a one-year or 800km (whichever comes first) replacement warranty on major parts. If a part has suffered a defect in the manufacturing process, we will replace it free of charge within one year of purchase.
You can easily order new parts for your Michael Blast ebike here. Please note that water damage, intentional misuse, and normal wear and tear are not covered under our warranties.
Do Your Cafe Racer eBikes Come Pre-Assembled?
Our cafe racer ebikes ship with easy-to-follow assembly instructions so that you can get them ready to ride as quickly as possible. If you want to purchase a fully-assembled model, contact a dealer near you and purchase a product you can ride right onto the street.
Can I Test Ride Your Cafe Racer eBikes?
We love to see people trying out our ebikes, but test rides are typically scheduled at the discretion of our dealers. Find a dealer near you here and ask about the model you're interested in.