FREE SHIPPING
$
$3,299
USD
BLACK
Out of Stock. Not available right now.
Reviews
Customer Reviews
10/28/2020
NorthBayRay

United States
Amazing bike, great experience
The minute I laid eyes on the Springer I knew this was the bike for me. I've always been a fan of the old boardtracker motorbikes but the noise, mess and price makes them an impractical hobby. The Greaser with the sprung front fork captures all the beautiful lines of those old racers without the hassle. That said, once I received the bike I was astonished at how well this thing operates and how much fun it is to ride. The size, heft and feel is almost like a motorcycle but it's still comfortable to take on a paved trail around pedestrians. The 500 watt motor/battery handles the California hills just fine and I'm getting a solid 30 miles each charge, as advertised. Top speed is around 25 on flat ground and feels solid and stable at all speeds. Customer service from John was amazing - his communication and service were second to none. The particular bike I wanted was only available in Canada but he sourced it and facilitated FEDEX delivery and he had it to California in no time - including several customizations including a rack, taillight and extra set of tires. I would not hesitate to recommend anyone to to order directly from the Michael Blast shop, it was a great experience. Last note - I knew this bike would attract attention but holy $#@ I was unprepared for how many questions I would get. It quite literally stops traffic. If you want to meet friendly strangers at your local coffee shop or brewpub this is hands-down the right way to do it. Everyone loves this bike - especially me. Best purchase I've made in a long time.
09/29/2020
Gordon M.

United States
Seamless and Fast
Great customer service No issues Fast delivery
TOP SPEED 35KMH (22 MPH)
RANGE 37-50MILE (60-80KM)*
WEIGHT CAPACITY 260 LBS (118KG)
CLASS 2 E-BIKE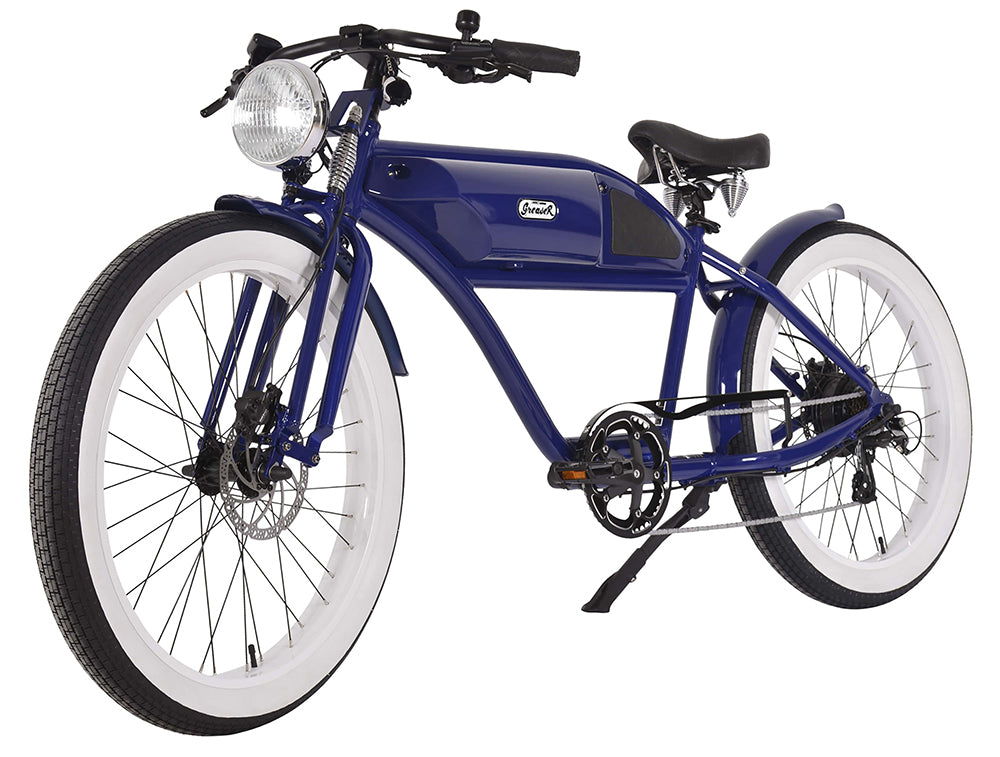 KEY TECH SPECS
BAFANG 500W GEARED BRUSHLESS HUB ELECTRIC MOTOR
SAMSUNG LITHIUM ION BATTERY 48VOLT 14.5AH
CADENCE SENSOR SYSTEM
TAIWAN STAR UNION HYDRAULIC DISC BRAKES WITH 180MM ROTORS
SHIMANO ALTUS X7-SPEED AND 5-SPEED MOTOR ASSIST DRIVETRAIN
VELO EXTRA WIDE SADDLE
5-SPEED BACKLIT LED DISPLAY
26" X 3.00" INNOVA TIRES
POWERFUL LARGE RETRO LED HEADLIGHT
A6061 ALUMINUM TIG WELDED FRAME
DOUBLE DOWN CHROMOLLY / CNC ALU MADE CROWN SET FORK
VIEW EXTENDED TECH SPECS
MOTOR
BAFANG 500 Watts Geared Brushless Rear Hub
BATTERY
Samsung Lithium Ion 48V 14.5Ah
SPEED
32 km/h (20 Mph) UNLIMITED
CONTROLLER
Control Freak 18Ah
TRIP COMPUTER
LCD 5 Speed Display
RANGE
Approx. 50 Kms (32 Milles)
CHARGING TIME
4 to 5 hours
CERTFICATION
EN15194
WARRANTY
5 years on the frame + 1 year on electric system
FRAME
A6061 Aluminum Tig Welded
FORK
Double Down Chromolly/CNC Alu Made Crown Set
GEARS
5 Speed motor assist with 7 speed Shimano Acera
BRAKES
Taiwan Star Union Hydraulic (180 mm Front/160 mm Rear)
now with motor cut off function (on all the bikes)
DERAILLEUR
Rear Derailleur (Shimano Altus) 7 speed
SHIFTER
Shimano
WHEEL HUB
Aluminum
STEM/BAR
Promax Aluminum
TIRES
Innova 26' X 3.00, 15-36PSI
PAS
Pedal Assist System allows for a more intuitive riding experience
DIMENSIONS
L76xW26xH40-inch (163x66x102 cm)
WEIGHT CAPACITY
260 lbs (118 kg)
PRODUCT WEIGHT
62 lbs (28 kg)
KEY
TECH SPECS
BAFANG 500W GEARED BRUSHLESS HUB ELECTRIC MOTOR
SAMSUNG LITHIUM ION BATTERY 48VOLT 14.5AH
CADENCE SENSOR SYSTEM
TAIWAN STAR UNION HYDRAULIC DISC BRAKES WITH 180MM ROTORS
SHIMANO ALTUS X7-SPEED AND 5-SPEED MOTOR ASSIST DRIVETRAIN
VELO EXTRA WIDE SADDLE
5-SPEED BACKLIT LED DISPLAY
26" X 3.00" INNOVA TIRES
POWERFUL LARGE RETRO LED HEADLIGHT
A6061 ALUMINUM TIG WELDED FRAME
DOUBLE DOWN CHROMOLLY / CNC ALU MADE CROWN SET FORK
VIEW EXTENDED TECH SPECS
MOTOR
BAFANG 500 Watts Geared Brushless Rear Hub
BATTERY
Samsung Lithium Ion 48V 14.5Ah
SPEED
32 km/h (20 Mph) UNLIMITED
CONTROLLER
Control Freak 18Ah
TRIP COMPUTER
LCD 5 Speed Display
RANGE
Approx. 50 Kms (32 Milles)
CHARGING TIME
4 to 5 hours
CERTFICATION
EN15194
WARRANTY
5 years on the frame + 1 year on electric system
FRAME
A6061 Aluminum Tig Welded
FORK
Double Down Chromolly/CNC Alu Made Crown Set
GEARS
5 Speed motor assist with 7 speed Shimano Acera
BRAKES
Taiwan Star Union Hydraulic (180 mm Front/160 mm Rear)
now with motor cut off function (on all the bikes)
DERAILLEUR
Rear Derailleur (Shimano Altus) 7 speed
SHIFTER
Shimano
WHEEL HUB
Aluminum
STEM/BAR
Promax Aluminum
TIRES
Innova 26' X 3.00, 15-36PSI
PAS
Pedal Assist System allows for a more intuitive riding experience
DIMENSIONS
L76xW26xH40-inch (163x66x102 cm)
WEIGHT CAPACITY
260 lbs (118 kg)
PRODUCT WEIGHT
62 lbs (28 kg)
INSTAGRAM
@MICHAELBLASTFACTORY